#PullMyFinger is my new fave hashtag. I love it so much I've had a t-shirt made with it on and all my virtual speaking gigs have had this hashtag.
I LOVE showing people the joy of pulling their finger out of their arse (and not in a kinky way). I've decided to combine my two super powers of being a procrastination assassin along with a marketing and communications expert to help business owners put themselves and their products and services out there.
Why?
I just adore helping entrepreneurs see that social media can be stress free, marketing doesn't need to be a mindfuck and getting consistent is the new sexy.
I help business owners understand the nuts and bolts of creating content that stands out so that their products and services are irresistible.
Better content + more consistency + kicking procrastination in the tits = more attention, more likes, a better reputation, more sales, more growth and a happier business owner!
As such I have created a brand new Facebook group that will open and launch THIS COMING MONDAY (July 20, 2020) for entrepreneurs, freelancers and small business owners who want to get shit done, market themselves like a pro and take the stress out of social media.
Here's a little sneak preview of the schedule of amazing value I'm offering for FREE: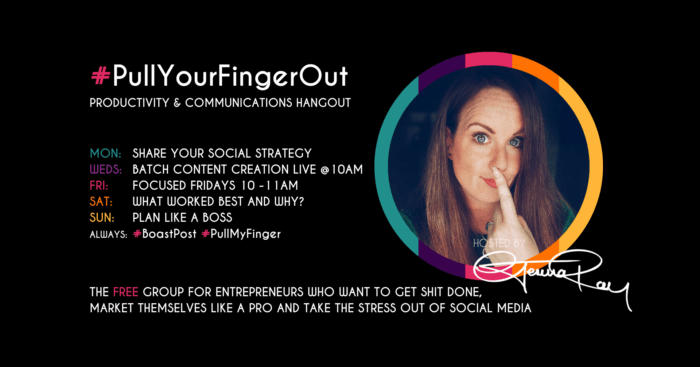 Its content marketing training and best practice mixed with accountability and productivity. If you would like to join the group, just click this link, answer the entry questions and I'll let you in from Friday.
This will be an ongoing community that I am looking to build. If you know anyone who owns their own business, has a side hustle, is a freelancer or someone who works in comms and wants the accountability to #PullYourFingerOut and get shit done around marketing and accountability, then please invite them to the group too:
>>>> Join the group here <<<
Nobody Knows What You Know
I've realised during lockdown while helping many entrepreneurs pivot or sell their services in new and inventive ways that we are all just striving to do the right thing to keep our businesses growing.
We are all sponges and the compound effect of our corporate and business experience. I have such a vast knowledge and can offer people so much expertise, help and support but delivered in a fun way that will ensure people keep their promises to themselves and get marketing their products and services.
What one person is desperate to know might just live in your head and I've had this epiphany this week so help take the stress out of social media and unfuck the mind when it comes to marketing so that people can focus on what they do best – being them!
When you set out in business, you don't often realise that you have to become the jack of all trades and wear so many hats. All of a sudden you're the procurement department, accountant, sales manager, HR director and marketeer all in one. It's hard!
Many businesses are not in a position to hire full time help or outsource and many people want to learn these things themselves.
I am always of the belief that the best person to market a small business is the person who owns it! People buy people, people buy into stories so let me help you tell your business story.
I'd love to see you in the group!
Gem
PS – As always this post was inspired by my #WankyQuoteWednesday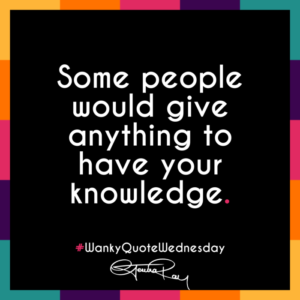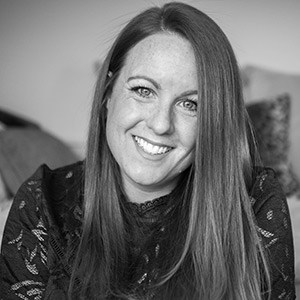 Gemma Ray is radio presenter, best selling author, communications coach and always the most filthy person in a WhatsApp group chat. Gemma tells it like it is and opens up about the stuff most people would never even dare admit to themselves, let alone put out in public.
Join Gemma on a refreshingly honest, powerful and inspirational journey of self-love, self-belief and self-trust through her books, blog and courses to help you take action on your goals.
? Co-host Honest to Gob Podcast listen now! ??